The Best Places to Eat in Jaipur
Introduction to Jaipur's Food Paradise
Jaipur, the capital of Rajasthan, India, is a sanctuary for food enthusiasts seeking to indulge in a rich culinary heritage. This vibrant city presents a unique blend of spices and flavours that tantalize the taste buds and leave a lasting impression on every visitor.
Traditional Rajasthani Cuisine: A Gastronomic Journey
The Royal Rajasthani Platter
Decoding the opulent Rajasthani thali
The traditional platter, Rajasthani thali, is a feast for the senses. It offers a delightful fusion of colours, flavours, and textures, representing the region's rich cultural tapestry.
A delightful fusion of colours, flavours, and textures
From fragrant and spicy curries to crispy snacks and sweet delicacies, the Rajasthani thali brings together diverse dishes that showcase the region's culinary excellence.
Signature Rajasthani Dishes
Laal Maas: The fiery and aromatic meat curry
Laal Maas is a traditional Rajasthani meat curry known for its vibrant flavour and aromatic spices. It is a must-try dish that perfectly captures the essence of Rajasthani cuisine.
Gatte ki Sabzi: Gram flour dumplings in spicy gravy
Gatte ki Sabzi is a popular vegetarian dish with gram flour dumplings cooked in a tangy and spicy gravy. Its unique combination of flavours makes it a favourite among locals and visitors.
Dal Baati Churma: Quintessential Rajasthani delight
Dal Baati Churma is a quintessential Rajasthani dish that consists of baked wheat bread, lentil curry, and crushed wheat with ghee and sugar. It is a wholesome and satisfying meal that locals and tourists cherish.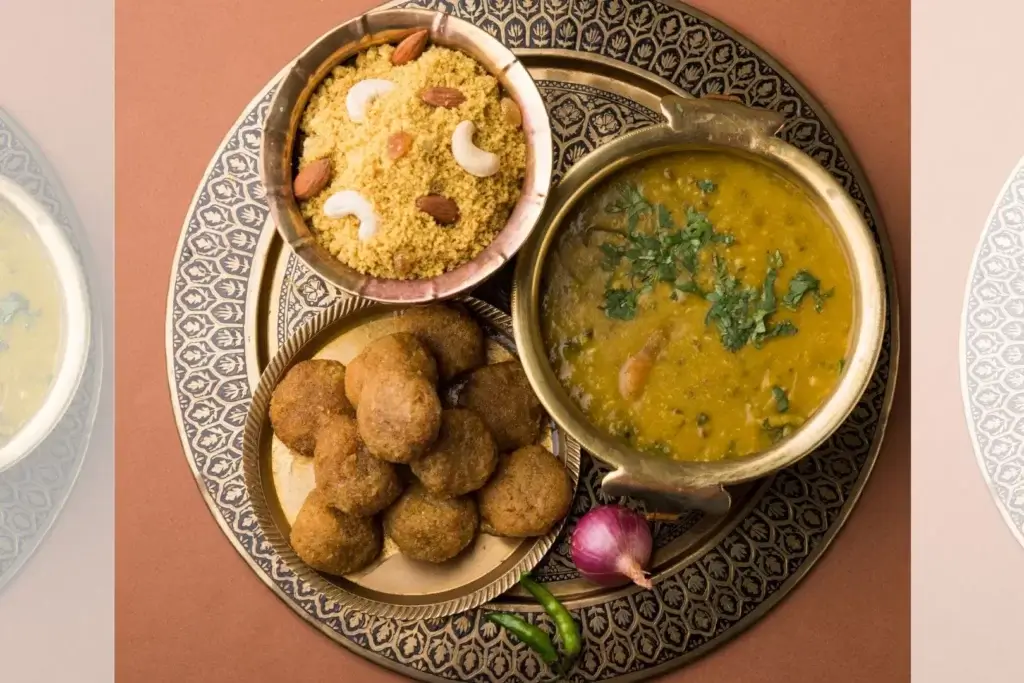 Time-honored Street Food
Pyaaz Kachori: Crisp deep-fried delights
Pyaaz Kachori is a famous street food in Jaipur that features a flaky and crispy pastry filled with a savoury onion and spice mixture. It is a delightful snack that perfectly captures the essence of street food culture in the city.
Mirchi Vada: Stuffed green chillies with a kick
Mirchi Vada is a spicy street food delicacy in Jaipur. It consists of green chillies stuffed with a flavorful filling, coated with a chickpea flour batter, and deep-fried to perfection. The combination of spice and crunch makes it popular among locals and adventurous food lovers.
Mawa Kachori: Jaipur's unique sweet surprise
Mawa Kachori is a sweet variation of the traditional kachori. It is filled with a rich mixture of mawa (milk solids), nuts, and aromatic spices. The outer shell is deep-fried to golden brown perfection, creating a delightful contrast of textures and flavours.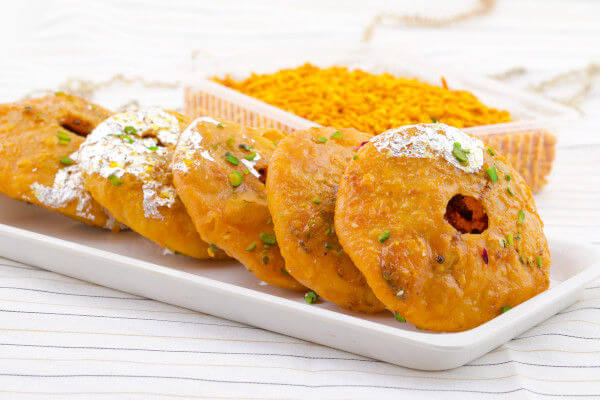 Exploring Jaipur's Vibrant Food Scene
Old City's Culinary Gems
Iconic eateries preserving tradition
The old city of Jaipur is home to iconic eateries that have been serving culinary delights for generations. These establishments have preserved traditional recipes and cooking techniques, allowing visitors to taste authentic flavours from the past.
Indulging in Pyaz ki Kachori at Rawat Mishthan Bhandar
Rawat Mishthan Bhandar is a legendary eatery in Jaipur known for its exceptional Pyaz ki Kachori. The flaky pastry filled with a savoury onion mixture is a crowd favourite and a must-try for anyone exploring the city's food scene.
Satisfying cravings with delicious Mutton Handi at Niros
Niros, a culinary institution in Jaipur, is renowned for its Mutton Handi. This slow-cooked delicacy is prepared with tender mutton, aromatic spices, and a blend of flavours that leave a lasting impression on the palate.
The Modern Fusion of Tradition and Innovation
Rise of contemporary restaurants and cafes
Jaipur has witnessed a rise in contemporary restaurants and cafes that blend traditional Rajasthani flavours with modern culinary techniques. These establishments offer a unique dining experience that reflects the city's dynamic spirit.
Fusion gastronomy at Jaipur Modern Kitchen
Jaipur Modern Kitchen is a culinary destination that presents fusion gastronomy at its finest. The menu showcases a creative blend of Rajasthani ingredients and global flavours, resulting in innovative and mouthwatering dishes.
Blending global and local at Spice Court
Spice Court is a restaurant that seamlessly blends international and local flavours. It offers a diverse menu that caters to different palates while maintaining the essence of traditional Rajasthani cuisine.
The quirky delights of Tapri Central
Tapri Central is a vibrant cafe that serves a range of innovative dishes and beverages. Its quirky ambience and fusion dishes make it a popular spot for locals and tourists looking for a unique culinary experience.
Unforgettable Thali Experiences
An authentic local experience at Gyan Vihar Restaurant
Gyan Vihar Restaurant provides an authentic local experience with its Rajasthani thali. This humble establishment serves various traditional dishes that capture the essence of Rajasthani cuisine, allowing visitors to immerse themselves in the local food culture.
Cultural immersion through Thali at Chokhi Dhani
Chokhi Dhani is a cultural village that offers a complete Rajasthani experience, including a traditional Thali. The thali at Chokhi Dhani is a culinary journey that showcases a wide range of Rajasthani delicacies in a vibrant and immersive setting.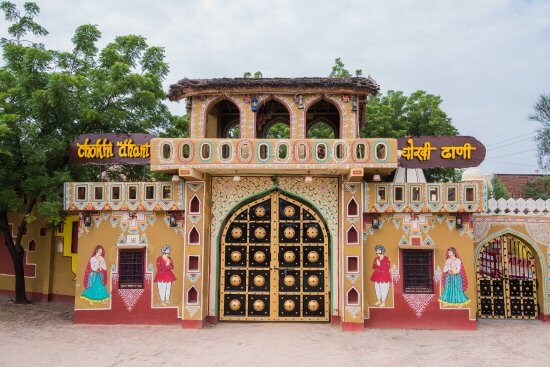 Specialty Restaurants Paving the Way
The charm of vegetarian dining at Laxmi Misthan Bhandar
Laxmi Misthan Bhandar is a renowned vegetarian restaurant in Jaipur serving delightful Rajasthani cuisine for decades. Its extensive vegetarian menu showcases Rajasthani cuisine's flavours and diversity.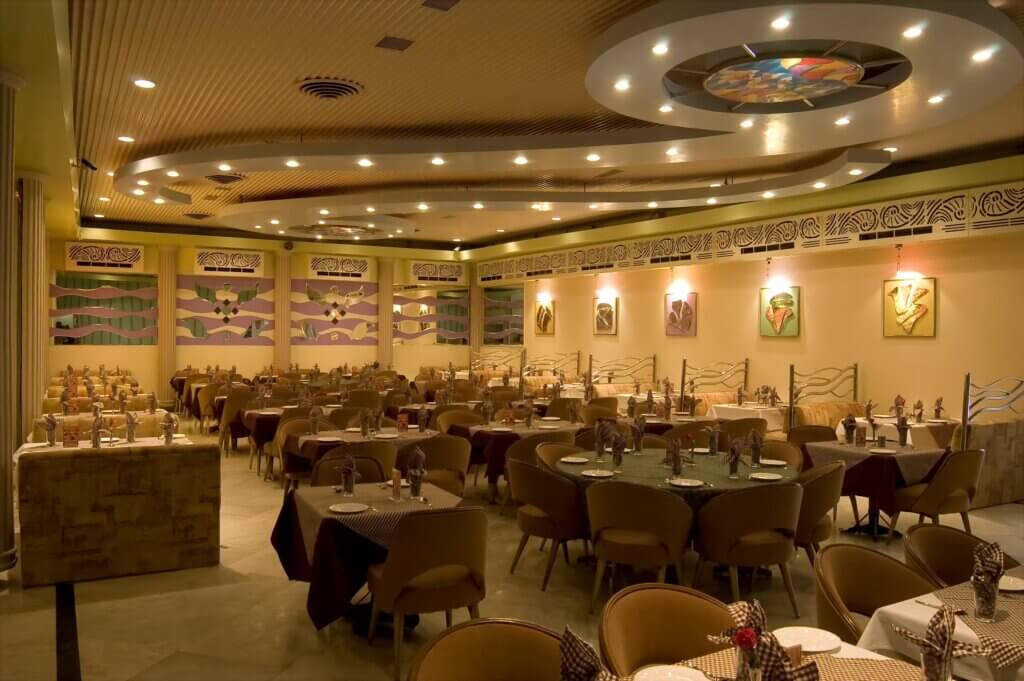 Indulging in unique flavours at 1135 AD
1135 AD is an excellent fine dining restaurant that takes inspiration from the royal kitchens of Rajasthan. It offers a menu filled with innovative and adventurous dishes that redefine the boundaries of Rajasthani gastronomy.
Majestic Rooftop Restaurants with a View
Dining in elegance at Padao
Padao is a rooftop restaurant that offers stunning views of the city's skyline. Guests can indulge in various mouthwatering dishes while enjoying the scenic beauty of Jaipur.
A panoramic perspective from The Peacock Rooftop Restaurant
The Peacock Rooftop Restaurant provides a panoramic view of Jaipur's historic landmarks. The restaurant's menu combines traditional Rajasthani cuisine and international flavours, allowing diners to savour delicious food while admiring the city's architectural marvels.
Embarking on a Culinary Adventure Beyond Borders
International Cuisines that Impress
Authentic flavours of Italy at Taruveda Bistro
Taruveda Bistro is a culinary destination that brings the authentic flavours of Italy to Jaipur. The restaurant offers a menu of traditional Italian dishes with high-quality ingredients and impeccable culinary skills.
Savoury bites of Japan at Okra
Okra is a Japanese restaurant in Jaipur serving delicious Japanese cuisine. Okra offers an unforgettable culinary journey through Japan, from sushi and sashimi to tempura and ramen.
Fusion at its Finest
Indo-European fusion at Jaipur Adda
Jaipur Adda is a fusion restaurant that combines the best of Indian and European flavours. The menu combines spices, ingredients, and cooking techniques, producing familiar and exciting dishes.
The global palette at Forresta Kitchen & Bar
Forresta Kitchen & Bar is an international dining destination offering a diverse menu inspired by flavours worldwide. From Mediterranean delights to Asian fusion dishes, Forresta Kitchen & Bar ensures a culinary adventure that satisfies every palate.
Jaipur's Sweet Tooth Delights
Traditional Desserts of Rajasthan
Malpua: Sweet pancakes oozing with syrup
Malpua is a traditional Rajasthani dessert with sweet pancakes soaked in syrup. The combination of textures and flavours makes it a delightful treat for those with a sweet tooth.
Ghevar: Intricate honeycomb-like delicacy
Ghevar is a popular sweet delicacy in Jaipur. It is made by deep-frying a refined flour batter and then soaking it in a sugar syrup. The dessert has an intricate honeycomb-like structure and is often garnished with nuts or saffron.
Sweet Corners to Satiate Cravings
Sampling delectable mithai at Lakshmi Mishthan Bhandar
Lakshmi Mishthan Bhandar is a renowned sweet shop in Jaipur that offers various delectable mithai (Indian sweets). From traditional favourites like Gulab Jamun and Rasgulla to innovative creations, this sweet corner is a paradise for dessert lovers.
The charm of Pandit Kulfi
Pandit Kulfi is a famous kulfi parlour in Jaipur that serves delicious and creamy kulfi, a traditional Indian frozen dessert. Pandit Kulfi is a go-to place to satiate your cravings for something sweet and refreshing with a wide range of flavours and toppings.
Summary of Jaipur's Gastronomic Sojourn
Summing up the taste extravaganza, Jaipur offers a gastronomic journey like no other. The city's culinary scene delights every food lover, from royal Rajasthani platters to hidden gems and international fusion. Whether you're a vegetarian, meat lover, street food, or fine dining fan, Jaipur has something to offer to meet every craving and preference.
Through this comprehensive guide "The Best Places to Eat in Jaipur", we have explored the rich culinary delights of Jaipur. The city invites visitors on a gastronomic adventure, offering various flavours, textures, and experiences.
Whether exploring the traditional Rajasthani cuisine or indulging in international fusion, Jaipur's culinary scene promises to leave you with unforgettable memories and an appreciation for the city's diverse food culture. So, prepare to embark on a culinary journey in Jaipur, where every bite is a delight!
Please do visit other interesting posts too:
FAQs
What makes Jaipur a great food destination in 2023?
Jaipur is renowned for its rich culinary heritage and evolving food scene. In 2023, it continues to delight food enthusiasts with its diverse offerings.
Can I find both traditional and contemporary cuisine in Jaipur?
Absolutely! Jaipur caters to all tastes. You can relish traditional Rajasthani dishes as well as modern, international cuisine.
Are there vegetarian-friendly options in Jaipur?
Yes, Jaipur offers many vegetarian-friendly dishes, and many restaurants exclusively serve vegetarian food.
How do I navigate the local street food in Jaipur safely?
To enjoy street food safely, stick to stalls with high foot traffic, ensure the food is freshly prepared, and drink bottled water.
Are reservations recommended for popular restaurants in Jaipur?
Yes, for renowned restaurants, it's advisable to make reservations in advance, especially during peak dining hours.
Is it customary to tip in Jaipur restaurants?
Yes, it's common to leave a tip, usually around 10-15% of the bill, to show appreciation for good service.
What are some must-try dishes or specialities in Jaipur?
Don't miss out on Rajasthani classics like Dal Baati Churma, Gatte ki Sabzi, and mouthwatering sweets like Ghewar and Rasgulla.
Are there any dietary restrictions or considerations to consider when dining in Jaipur?
While most places accommodate dietary restrictions, it's a good idea to communicate your preferences or limitations to the staff.