Pirates of Grill – Amazing Buffet in Lucknow
It was an occasion for Mother's birthday celebration !! She likes to have grilled food. Be it – vegetarian or Non-vegetarian. We already had multiple outings to the usual Barbeque Nation & The Big Grill. So, we wanted to select a "barbeque" place where we did not have to compromise on the food taste. "Pirates of Grill" came out to be the winner !!
The grill is a must-try for all the food lovers in Lucknow. It is one of the best-tasting buffets which offers a wide variety of cuisines. The buffet has something for everyone – from starters to the main course to desserts.
How to reach Pirates of Grill?
It's no hassle to reach the Pirates of Grill restaurant from any part of Lucknow. This restaurant is in a commercial space adjacent to Fairfield by Marriott hotel. Alternatively, you can consider another famous landmark just opposite to the restaurant – Indira Gandhi Pratishthan.
Finally, you can always rely on Google Maps !! Don't you?
Interesting Experience with Parking
We were with our 4-wheeler. We paid a parking charge of Rs. 50 and asked if there was a facility for basement parking as we had a reservation at 1:30 pm. It was chilling hot outside at the time. He showed us the directions. We tried to find it but got confused. We passed in the front of the restaurant and even asked the service manager for parking directions. He also told us similar directions, but we could not find it.
Once we exited, we went to the adjacent building, hoping to find parking. We found one and parked our car. Later, we learned we had parked our car in some apartment building. We had a good laugh about it later.
What does the Pirates of Grill offer?
Pirates of Grill is a unique buffet restaurant in Lucknow that offers various grilled meat and seafood. The restaurant has a relaxed and casual atmosphere, and the service is friendly and efficient. The food is freshly prepared and cooked to perfection. The buffet includes a wide variety of starters, main course dishes, desserts, and drinks. There is something for everyone at Pirates of Grill. The restaurant is located in the heart of the city.
The restaurant offers a decent spread of food items on its buffet menu. When compared with the competition, they seem less.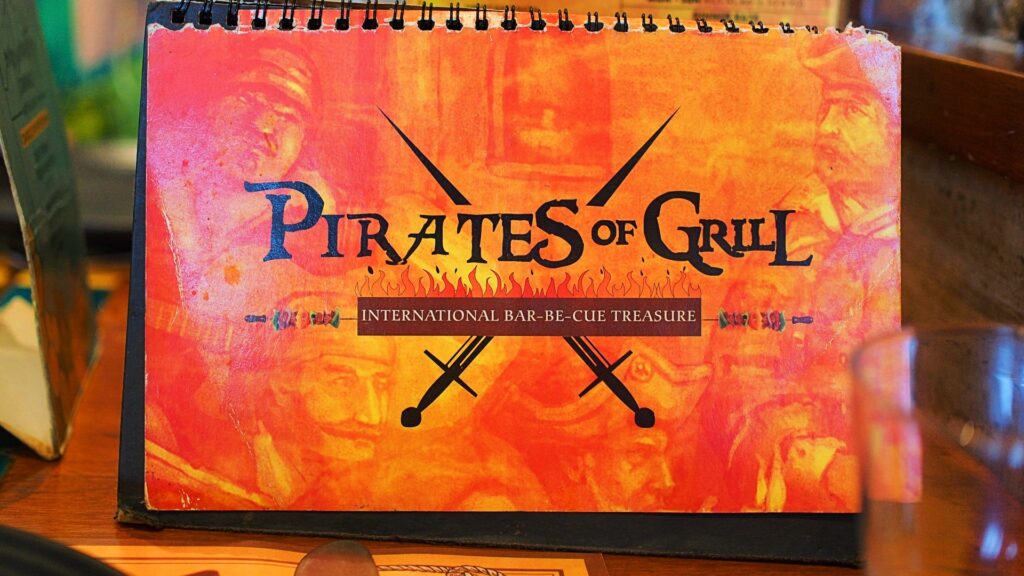 The restaurant offered a decent spread of food items on its buffet menu. When compared with the competition, they seem less. I hope that the restaurant's management will work on it.
We were offered a welcome drink as soon as we sat at our table. We had – Pulpy Orange, Pineapple Panna, Virgin Mojito and Iced Tea. All were incredibly delicious. Then, we had Golgappas- both with chilli water and sweet water. They, too, were super tasty.
We had Chicken Leg piece after that. And, let me tell you – it was one of the best we had in a long time !! We had 5 rounds of chicken leg pieces !!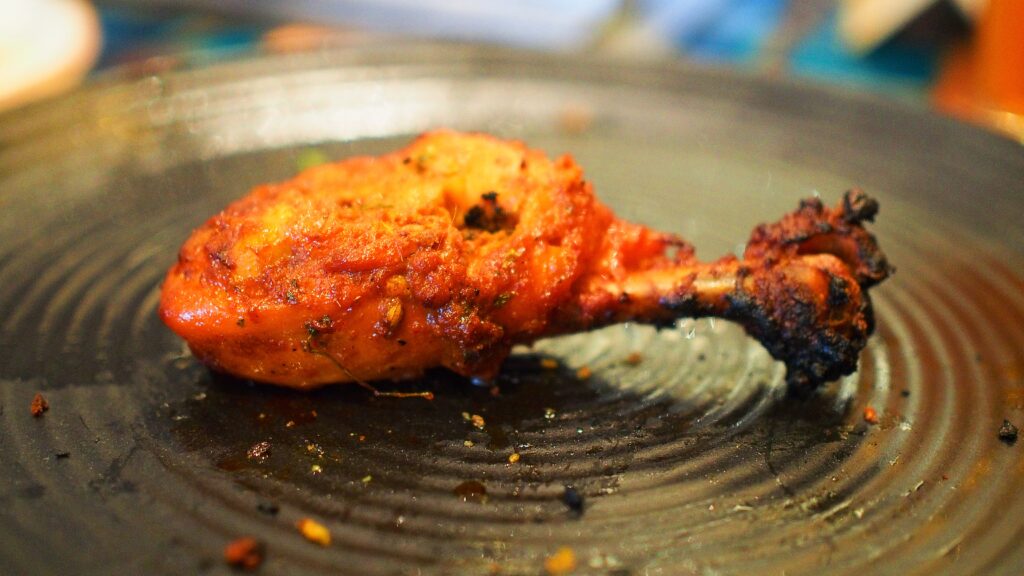 Now, it was the turn of the skewers to be put over the grill. Chicken, Prawns & Mutton Seenkh Kebab were served. Mutton Seenkh Kebab was saltier for my taste. The chicken pieces were big and juicy. The prawn's taste was average. All of us were surprised with Fish Fingers. They were wonderful and fresh.
We had several rounds of skewers. Our tummies were about to burst. Finally, we informed them to close the starters. We really enjoyed them and had a wonderful time.
We waited for almost 30 minutes to settle down. We took very little from the main course. I had Mutton Curry, Egg Fried Rice, Chinese Fish Curry, and the Tandoori Roti. Mutton pieces were delicate and well cooked, but the taste was not per my liking. I liked the Egg Fried Rice & Chinese Fish Curry. My parents & brother had Chicken Biryani, which they highly praised.
At last, we had a little bit of dessert. I took Vanilla Ice-cream with Gulab-Jamuns. The Hot-&-Cold combination was delicious. I tasted Firni as well, which was mild in taste but amazing.
Overall Experience
Pirates of Grill restaurant was a surprise package for all of us. We did not expect the experience to be so great !! We enjoyed the food and had a wonderful family time. I would like to highlight one point, though. The customer interaction needs to be more thorough.
Barring minor shortcomings, there is nothing else to complain about. It's a great place to spend quality time along with food. Go out there and enjoy !!
Please read other interesting blogs :