Top 9 Cheapest Countries To Travel From India
This post will list out the top 9 cheapest countries to travel from India. These countries are so breathtakingly beautiful and awe-inspiring that you will never want to return to India. So, what are we waiting for – let's go !!
SRI LANKA
A pear shaped island which has been our neighbour since centuries ago – Sri Lanka. It lies to the south of India , surrounded by Indian Ocean. Lonely Planet has awarded Sri Lank as the Top Country to Visit in 2020 . It is well known for its pristine beaches and lip-smacking food. India has centuries old connection with Sri Lanka through Ramayana fables.
1 Sri Lankan Rupee(LKR) = 0.37 Indian Rupees(INR) OR
1 Indian Rupee(INR) = 2.69 Sri Lankan Rupee(LKR)
Visa Requirement
The Tourist Visa or Visit Visa can be obtained through two mediums – either Online or On Arrival. Both mediums have different fees obviously.
The person who obtained short term visit visa should obtain Electronic Travel Authorization ( ETA) before entering the country. No foreigner should enter into Sri Lanka until he/she obtains ETA.
You can visit these links to get hands on any kind of information you are looking for:
Visa Fees (This is non-secured official government website)
General Guidelines on Passport & Visa (This is non-secured official government website)
Electronic Travel Authorization(ETA)
How to Reach Sri Lanka?
The easiest way to reach Sri Lanka is to take flight. The flights availability is round the clock from India and other parts of the world.
Flight Carriers from India to Sri Lanka: Air India, Indigo Airlines, Srilankan Airlines, Air Arabia, Vistara, Turkish Airlines, SpiceJet
Cruise Ships
Several Cruise operators offer itineraries that include Sri Lanka , with most docking at Colombo.
Ferry Operators
Ferry services between Sri Lanka and India stopped for 30 years during island's Civil war but restarted in 2011 when Flemingo Liners began operating a popular route between the Southern Indian port of Tuticorin and Colombo. The route is currently suspended.
Best Seasons to Travel
Between December and April is the most picturesque and travel -friendly season in Sri Lanka.
Popular Places to Visit
These places could be the ones where you can enjoy your time – Colombo, Kandy, Yapahuwa Kurunegala, Sigiriya,Galle, Tissamaharama, Kirinda Sabaragamuwa, Panduwasnuwara, Dambadeniya, Matara, Kataragama.
Things/Activities to Do
You can do – Cultural & Theme tours, Outdoor activities, Mountains, day Trips, Private & Custom tours, National Parks, Nature & Parks, Food, Wine & Nightlife, Beaches, Whale Watching and many more.
Please do visit TripAdvisor page to know more.
What not to do when in Sri Lanka
When you travel to a foreign country, always respect the culture & law of the local land. Be a traveller – not a tourist and you will have beautiful memories to cherish always.
Please visit this page for more understanding. (Credits: theculturetrip)
BHUTAN
Bhutan is a landlocked country located in Eastern Himalayas. It is bordered by China in the North and bordered by India in the rest all directions It is considered to be the Happiest Country in the World. It is known for its monasteries, fortresses( or dzongs) and dramatic landscapes.
1 Bhutanese Ngultrum = 1 Indian Rupee(INR) 
Visa Requirement
Nationals of India, Bangladesh, and the Maldives can enter Bhutan with just their passport, as long as it is valid for another six months. They still need to pay a "sustainable development fee" of about US$17 dollars per day during their time in Bhutan.
Everyone who is not from the three aforementioned countries pays a US$65 sustainable development fee.
How to Reach Bhutan?
By Air : Paro is the only international airport in Bhutan and has connecting flights from Delhi, Bagdogra, Guwahati, and Mumbai. You can take direct flights from Kolkata to Paro. Hence, there is more frequency of flights from Kolkata to reach Bhutan.
The number of flights from Delhi and Mumbai are less as compared to Kolkata and Bagdogra. Druk Air is the national airline of Bhutan and flights can be booked only through the official websites of this airline.
By Road: Indians who wish to travel to Bhutan by road need to acquire an 'entry permit' from the Immigration Office of Royal Government of Bhutan in Phuensholing, which is located on the Indo-Bhutan border opposite Jaigaon, West Bengal. But this 'entry permit' allows an Indian tourist to visit Paro and Thimphu only.
If you wish to go beyond Thimphu and Paro then you need to obtain a 'special area permit' from the Royal Government of Bhutan Immigration Office in Thimphu.
It is also possible to arrange the visa from Kolkata at Royal Bhutan Consulate Office. It is better to apply 10-12 days prior to your visit.
Best Seasons to Travel
The beauty of the place is simply outstanding in the autumn and spring seasons which usually fall between the months of September to November and March to May respectively. The climate is warmer and pleasant at this time and the skies are clearer too. Also, many great festivals fall during these seasons.
Popular Places to Visit
This is a list of most magnificent places to visit in Bhutan: Thimphu, Paro, Punakha Dzong, Trongsa, Bumthang or Jakar Valley, Phobjikha Valley, Mount Chomolhari, Wangdue Phodrang and Phuentsholing
Things/Activities to Do
You have varieties of things to do in this beautiful country –
Do's & Dont's in Bhutan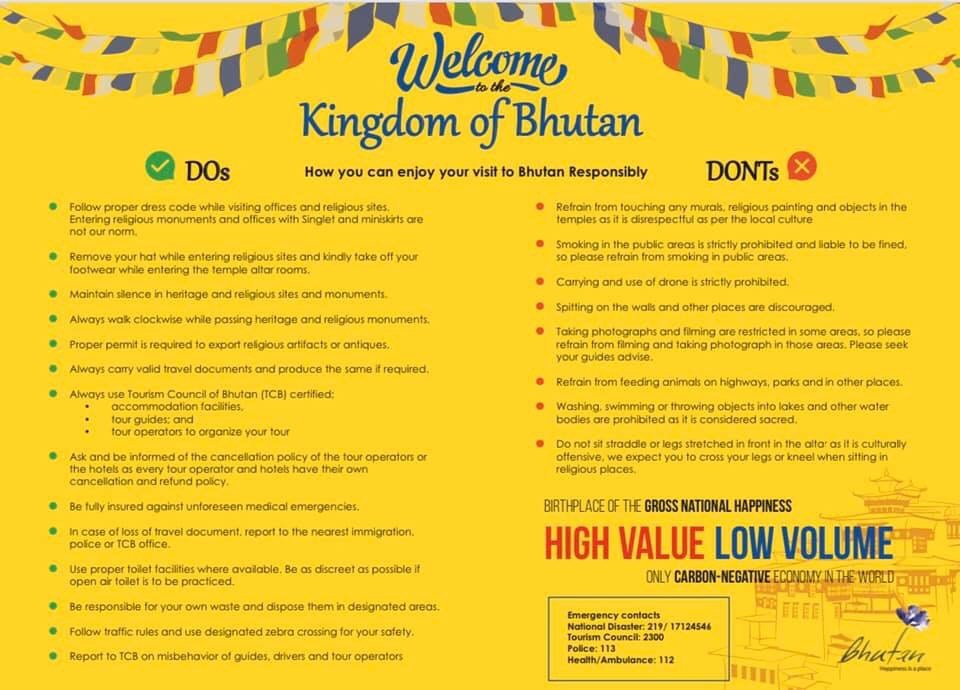 NEPAL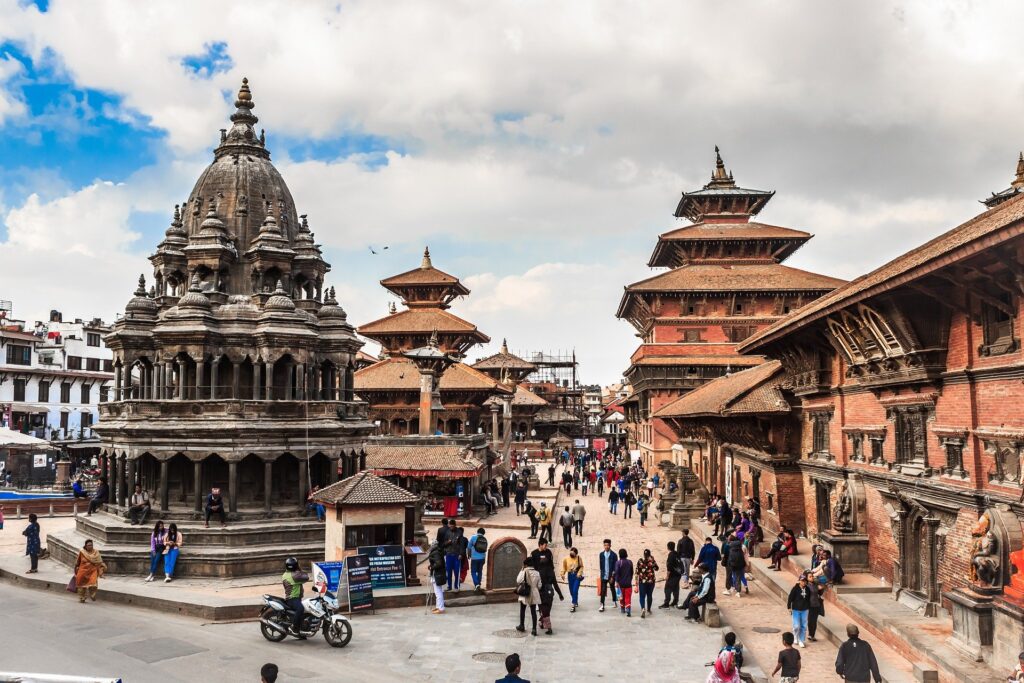 Nepal is a beautiful country in Southern Asia between the Tibet autonomous region of China and India. It contains 8 of the world's 10 highest peaks including Mount Everest – the world's tallest – on the border with Tibet, and Lumbini, the birth place of Gautama Buddha, the founder of Buddhism.
1 Nepalese Rupee(NPR) = 0.63 Indian Rupee( INR) OR
1 Indian Rupee(INR) = 1.60 Nepalese Rupee(NPR)
Visa Requirement
Indian passport holders do not require a visa to travel to Nepal.
How to Reach Nepal?
By Road : Bus is the most convenient option to reach Nepal from India. There are direct buses that operate between Delhi and Kathmandu.Travelling by car is also a common practice. You are required to pay a toll fee and a transport permit at the border crossing. Do not forget to collect the receipts as you might be asked at other checkpoints.
By Train : There are regular passenger and cargo trains that connect Sirsiya (Southern Nepal) and Raxaul (India).Recently, officials have announced the launch of a direct passenger train between India and Nepal.The train would run from Jayanagar (Bihar) to Kurtha (Dhanusa District, South-eastern Nepal).
By Air : Tribhuvan International Airport in Kathmandu is the only International airport in the region.There are a handful of airlines that operate daily from major Indian cities including Indigo and Air India.
Best Seasons to Travel
The best time to visit Nepal is between October and December, when the skies are a clear blue and the views spectacular.
Popular Places to Visit
This beautiful country has some many places to offer you tranquil and calm and peace – Kathmandu, Nagarkot, Pokhara, Bhaktapur, Lumbini, Dharan and Nuwakot.
Things/Activities to Do
Nepal, being a mountainous country, has a lot to offer for natural parks visits – Langtang National Park, Chitwan National Park and Sagarmatha National Park. The country offers the most exciting mountain trek in the entire world – Mt. Everest. Apart from this, you can visit to Janakpur for its historical connection.
Do's & Dont's in Nepal
PHILLIPINES
Phillipines is considered as a dream destination if you are a beach lover. It is known for having an abundance of beautiful beaches and delicious fruit. The collection of islands is located in Southeast Asia and was named after King Philip II of Spain.
1 Philippine Peso(PHP)  = 1.48 Indian Rupee( INR) OR
1 Indian Rupee(INR) = 0.67 Philippine Peso(PHP)
Visa Requirement
Indian citizens entering Philippines for tourism purposes must apply for a tourist visa. These visas are valid for a 14 day entry to Philippines. This stay can be further extended for a period of 7 days. In case you want to visit the country for a time period which extends beyond 21 days, you must mention that at the time of visa application and accordingly avail an extension.
Currently, the Philippines do not offer the option of visa on arrival for Indian nationals. As a result, you must apply for a visa before travelling to the country.
How to Reach Phillipines?
By Air: Unfortunately, there are no direct flights from India to the Philippines.
From India, you can reach the Philippines by flying via Singapore, Bangkok or Kuala Lumpur to reach Manila.
If you're looking for more affordable flight options, Bengaluru, Chennai and Kolkata offer slightly lower prices, than Mumbai or Delhi
Some of the carriers are Singapore Airlines, Philippines Air Asia, Scoot, Malaysia Airlines and more.
By sea: If you plan to take sea route, it's best to travel from nearby Asian countries.
If you're in Bitung, Indonesia, the ferry travels to the Philippines twice a week.
The journey takes 36 hours. EPA Shipping Line is the biggest ferry operator for this route.
There are ferries available from Malaysia as well. The Aleson Line departs from Zamboanga in the Philippines to Sandakan in Malaysia, twice a week, and takes 16 hours. SRN Fastcrafts will get you to the same destination in a breezy 8 hours.
Best Seasons to Travel
The best time to go to the Philippines is from December to February, when temperatures are at their coolest and the rain generally stays away.
Popular Places to Visit
There are many breath taking locations which begs you to visit – Manila, Cebu City, Puerto Princesa and El Nido to name a few.
Things/Activities to Do
Do's & Dont's in Phillipines
You should avoid these things when in Phillipines:
CAMBODIA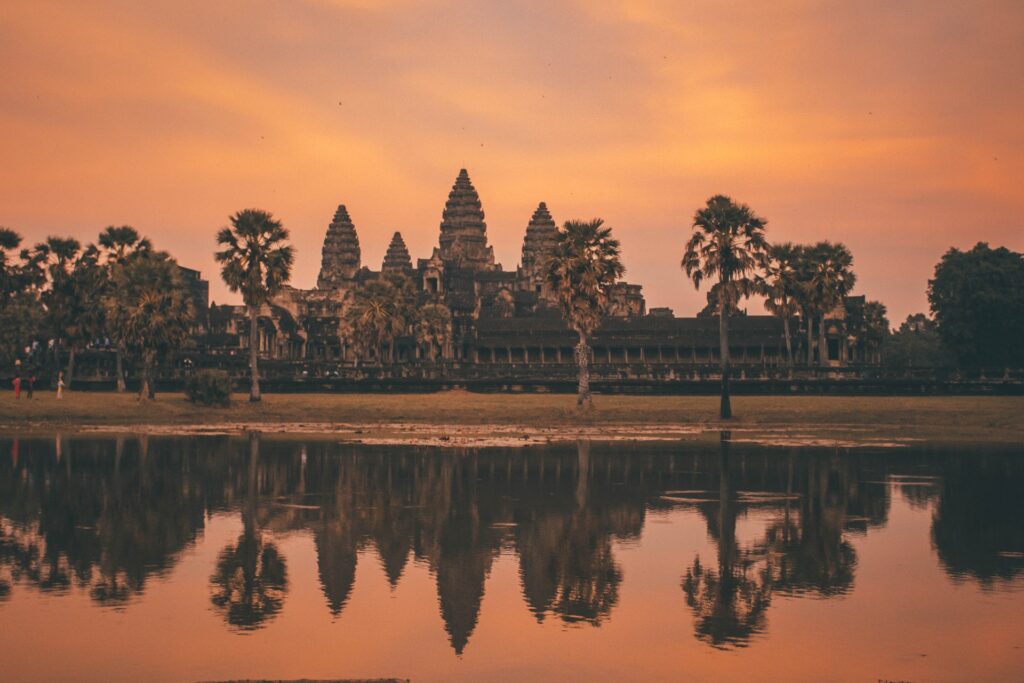 Cambodia is a Southeast Asian nation whose landscape spans low-lying plains, the Mekong Delta, mountains and Gulf of Thailand coastline. It is most widely known for "Angkor Wat" temple around the world. It is also one of the cheapest destinations from India.
1 Cambodian Riel(KHR) = 0.018 Indian Rupee(INR) OR
1 Indian Rupee(INR) = 54.32 Cambodian Riel(KHR)
Visa Requirement
Indian nationals cannot travel to Cambodia without a visa. Indians who meet the eVisa requirements can obtain the permit online in just 3 steps.The Cambodia tourist visa for Indian nationals is valid for 30 days. Only diplomatic and official passport holders from India do not require a visa.
How to Reach Cambodia?
By Air : Travelling to Cambodia by air is the easiest with the country having international airports at its two main hubs — Phnom Penh and Siem Reap.
They are both very well-connected to the region, with direct flights running to and from Thailand, Vietnam, China, Laos, Malaysia, Japan and South Korea.
Flights from India to Cambodia generally have a layover at one of these countries.
By Rail : You can travel to Cambodia from Thailand which is a 6 hour long journey with mesmerizing and breath taking views.
Best Seasons to Travel
The best time to visit Cambodia is between November and April
Popular Places to Visit
These are the few popular places which can visit in the country – Krong Siem Reap, Phom Penh, Prea Sihanouk, Banteay Srei
Things/Activities to Do
You can do many things in this country –
Do's & Dont's in Cambodia
Please be mindful of these things in the country:
LAOS
The Southeast Asian country known for its mountainous terrain, Buddhist monasteries, and the beautiful French architecture can be your next destination if you want to travel to a cheap country from India!
1 Laotian Kip(LAK) = 0.0073 Indian Rupee(INR) OR
1 Indian Rupee(INR) = 136.57 Laotian Kip(LAK)
Visa Requirement
Indian nationals do not need to apply for a Laos visa in advance. They can get a visa upon arrival in Laos provided they have the valid travel documents. Laos Visa on arrival is issued for 30 days. All visitors must hold a passport that is valid for at least six months from the time of entry into Laos.
How to Reach Laos?
Flight is the cheapest and best way to travel to Laos from India. Flights operate from New Delhi Airport to Vientiane Airport or from Kolkata airport to Luang Prabang.
Air India, Thai Airways, Jet Airways, Bangkok Airways, Shandong Airlines, Singapore Airlines, and Qatar Airways are the carriers that fly from India to Laos.
Best Seasons to Travel
The best weather to travel to Laos is between October and April.
Popular Places to Visit
These are the places that you would not want to miss – Luang Prabang, Muang Ngoi & Nong Khiaw, Bolaven Plateau & Champasak, Vang Vieng, Vientiane .
Things/Activities to Do
These are the variety of excursions or tours that you can do
Do's & Dont's in Laos
VIETNAM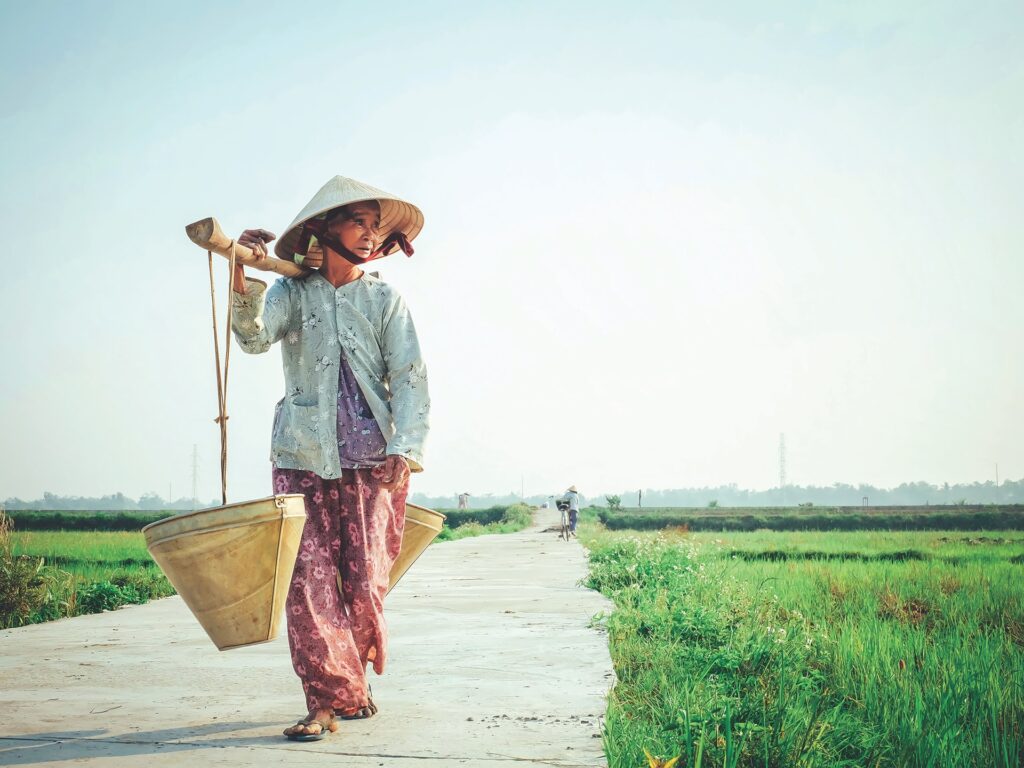 Vietnam is a Southeast Asian country known for its beaches, rivers, Buddhist pagodas and bustling cities.Its neighboring countries are China to the north, Laos and Cambodia to the west.Once a lesser-known destination, Vietnam has become widely popular in recent years.
1 Vietnamese dong(VND) = 0.0033 Indian Rupee(INR) OR
1 Indian Rupee(INR) = 304.26 Vietnamese dong(VND)
Visa Requirement
Indian travellers need the Vietnam visa to enter the country and Vietnam offers visa on arrival provisions to Indian nationals. Visa on arrival is valid for a period of 30 days from the date of arrival in the country.
For this visa, Indian passport holders first will have to apply for the e-visa online, obtain the approval letter and collect the visa on their arrival in Vietnam.
How to Reach Vietnam?
The two main international airports for Vietnam travel are Ho Chi Minh City and Hanoi. Connecting flights to both these airports are available from Indian cities like Delhi, Mumbai, Chennai, Kolkata, Hyderabad, Bangalore, and Kochi etc
Best Seasons to Travel
The best time to visit North Vietnam is between March and May, and September to November when the temperature is moderate with low humidity and less downpour. Central Vietnam witness the coastal weather, with January to August being the best time to visit Central Vietnam.
Popular Places to Visit
The popular cities to visit on Vietnam – Hanoi, Ho Chi Minh City, Hoi Ann, Sapa, Ha Long Bay, Hue, Phu Quoc and so on.
Things/Activities to Do
You can do lot many things in this beautiful country
Do's & Dont's in Vietnam
MYANMAR
Myanmar (formerly Burma) is a Southeast Asian nation of more than 100 ethnic groups, bordering India, Bangladesh, China, Laos and Thailand. Myanmar's culture is heavily influenced by Buddhism.
1 Myanmar Kyat = 0.041 Indian Rupee(INR) OR
1 Indian Rupee(INR) = 24.11 Myanmar Kyat(MMK)
Visa Requirement
The visa for Myanmar for Indian citizens can be obtained for tourism purposes and are valid for 90 days and support only single entries. The maximum number of days allowed to stay in Myanmar as a tourist electronic visa holder is up to 28 days.Indians can apply for the electronic visa to Myanmar.
How to Reach Vietnam?
You can go to Myanmar from India by road crossing the Moreh (India side)-Tamu (Myanmar side) overland border at Manipur.
Also, there are flights from most major Indian cities to Yangon, the capital of Myanmar.
Best Seasons to Travel
The best time to visit Myanmar is during the dry season, between October and May.
Popular Places to Visit
The popular cities to visit on Myanmar – Bagan,Yangon,Mandalay,Inle Lake,Ngapali,Mrauk U,Bago,Kyaiktiyo,Ngwe Saung and Pyin U Lwin
Things/Activities to Do
Do's & Dont's in Myanmar
INDONESIA
Spread across a chain of thousands of islands between Asia and Australia, Indonesia has the world's largest Muslim population and Southeast Asia's biggest economy. It is one of the most popular destination among Indian honeymooners.
1 Indonesian Rupiah(IDR) = 0.0052 Indian Rupee(INR) OR
1 Indian Rupee(INR) = 190.70 Indonesian Rupiah(IDR)
Visa Details
Indonesia is a visa free country so no visa required for Indian citizens travelling for less than 30 days. You just need to get a visa exemption stamp from the Immigration counter. This is available free of cost. If your travel duration is more than 30 days, you can apply for visa on arrival when you enter Indonesia.
How to Reach Indonesia?
The fastest and the most convenient way to travel to Indonesia from India is by air. You can take a flight either to Soekarno–Hatta International Airport in Jakarta or Ngurah Rai International Airport in Denpasar. There are several airlines from India that offer connecting flights to these destinations.
Best Seasons to Travel
The best time to visit Indonesia is between April and October, when the weather is perfect for island-hopping, snorkelling, and beach relaxation.
Popular Places to Visit
The popular cities that you can visit and immerse completely in the beauty of Indonesia – Jakarta, Surabaya, Medan, Makassar, Bandung and Batam and Bali and there are many more.
Things/Activities to Do
There are huge number of things & activities that you can do in Indonesia -exploring Gili Islands, visiting Borobudur Temple, paying a visit to world's renowned Uluwatu Temple, trip to Sacred Monkey Forest, visit to Tanah Lot Temple, relaxing evening on Seminyak beach, paying a visit to black sand beach, excursion to Tangkuban Perahu volcano site, visit to Komodo National Park etc..
Do's & Dont's in Indonesia