11 Best Cities to Visit In The UK
Overview
Are you seeking a travel experience that blends history, culture, and modernity?
Exploring the United Kingdom offers a plethora of enchanting cities waiting to be discovered. From the vibrant energy of London to the historic charm of Edinburgh, embark on a journey with us as we unveil the 11 best cities to visit in the UK.
This article is your ultimate guide, providing a curated list of must-visit destinations, unique attractions, and local experiences. Whether you're an architecture lover, a food enthusiast, or a history buff, this comprehensive guide offers something for every traveller.
Join us on this virtual tour, and let's explore the diverse tapestry of the UK's most captivating cities together.
1. London
As the dynamic and multifaceted capital city of England, London is a treasure trove that seamlessly blends history, culture, and contemporary life. Graced with iconic landmarks, royal residences, and vast parks, London promises an unforgettable experience for every traveller.
Top Tourist Attractions
Buckingham Palace: Visit the official residence of Her Majesty The Queen and admire the luxury of one of the world's few remaining active royal residences. Don't miss the Changing of the Guard ceremony.
Big Ben and the Houses of Parliament: Witness the grandeur of the neo-Gothic Houses of Parliament and the world-famous Big Ben. This clock tower has chimed for over 150 years.
The London Eye: Soar above the city on the towering London Eye observation wheel and take in the sprawling views of London's skyline and the River Thames.
Tower of London: Discover the history and mysteries of the Tower of London, including the Crown Jewels, White Tower, and the legend of the ravens.
British Museum: Dive into the expansive collection of world art and artefacts at the British Museum, where treasures like the Rosetta Stone and Parthenon sculptures await.
#Fun-Fact: London
London causes more tweets than any other city in Europe, with around 52,000 tweets per minute.
Accommodation, Transportation, and Dining
Accommodation: London offers diverse lodging options ranging from budget hostels to five-star luxury hotels. Popular neighbourhoods include Covent Garden, South Kensington, and Shoreditch.
Transportation: The city's extensive public transportation system, such as the London Underground ('the Tube'), buses, trains, and Thames Clippers, ensure easy navigation. Consider purchasing an Oyster card for convenience and cost savings.
Dining: London's culinary scene is a melting pot of flavours and cultures. From traditional British dishes to diverse international fare, well-known food markets, and Michelin-starred restaurants, London caters to every taste.
Travel Tips
Best Time to Visit:

Spring (March-May) and autumn (September – November) offer pleasant weather, beautiful scenery, and moderate crowds.

Budget-Friendly Activities:

London has numerous free attractions like galleries and museums. Take a stroll along the South Bank, visit the Natural History Museum, or explore the Tate Modern.

Local Customs:

Keep to the right on escalators, practice queue etiquette, and familiarize yourself with UK currency. Remember to carry an umbrella, as London weather can be unpredictable.
2. Edinburgh
Edinburgh, the capital city of Scotland, balances the ancient and modern in a uniquely Scottish atmosphere. Leading from the Medieval Old Town with its towering castle to the neoclassical New Town with bustling shops, this city has something for every traveller.
Top Tourist Attractions
Edinburgh Castle: Sat high on Castle Rock, this iconic fortress offers stunning views over the city and houses the Crown Jewels, the Stone of Destiny, and St. Margaret's Chapel.
The Royal Mile: Explore this historic stretch that leads down from the castle. Along the way, you'll pass St. Giles' Cathedral, the Museum of Edinburgh, vibrant shops, and atmospheric pubs.
Holyrood Palace: Visit the Queen's official residence in Scotland. Discover the State Apartments, Mary, Queen of Scots' Chambers, and the lovely gardens.
Arthur's Seat: For breathtaking views of the city, take a hike to Arthur's Seat, the remnants of a dormant volcano located in Holyrood Park.
Royal Botanic Garden: Enjoy this 72-acre haven of peace and tranquillity just a mile from the city centre.
#Fun-Fact: Edinburgh
The city of Edinburgh is known for many things, including the location of the world's first fire brigade, established in 1824.
Accommodation, Transportation, and Dining
Accommodation: From charming guest houses in the Old Town to luxury hotels in the Georgian New Town and budget-friendly hostels, Edinburgh offers a wide range of accommodations.
Transportation: The city is best navigated on foot, with frequent buses available for longer journeys. Taxis and Uber are readily available, too. The Airlink 100 bus offers a direct route from Edinburgh Airport to the city centre.
Dining: Enjoy the city's burgeoning dining scene, from time-honoured fish and chips to fancy Michelin-starred dining. Don't miss a chance to sample traditional Scottish dishes like haggis and Cullen skink.
Travel Tips
Best Time to Visit:

June to August provides long daylight hours, with the city buzzing with performing artists during the world-famous Edinburgh Festival Fringe.
Budget-Friendly Activities:

a) Visit the Dean Village and Water of Leith. b) Get lost on Calton Hill. c) Explore the winding paths of The Meadows.
Trivia and Customs: As the birthplace of many renowned authors, such as J.K. Rowling and Arthur Conan Doyle, Edinburgh is often dubbed 'The City of Literature'. Also, don't be surprised if you hear bagpipes playing in the streets!
That's Edinburgh, a city that perfectly blends history, culture, and natural beauty – it's truly a jewel in the Scottish crown.
3. Belfast
Belfast, the capital city of Northern Ireland, harbours a deep history, vibrant culture, stunning landscapes, and a revitalized downtown area. With its roots in the industrial era and its growth into a multifaceted city, Belfast is a hidden gem to explore.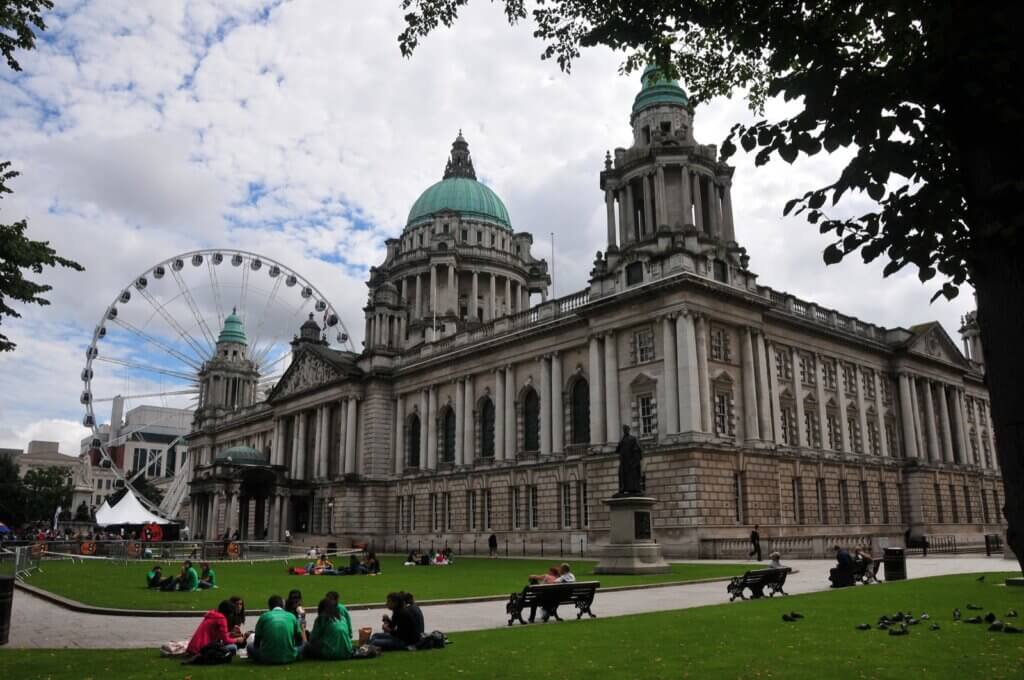 Top Tourist Attractions
Titanic Belfast: Explore Belfast's maritime legacy at Titanic Belfast, the world's largest Titanic visitor experience, located on the very slipways where the Ship of Dreams was built.
Crumlin Road Gaol: Discover the chilling history of this 19th-century jail, which once housed infamous prisoners. You can even experience the foreboding tunnel under Crumlin Road.
St. George's Market: One of Belfast's oldest attractions, this vibrant market sells various products ranging from seafood and local produce to crafts and antiques.
Belfast City Hall: Wander around this impressive structure in the city centre; it houses an excellent Titanic memorial garden and offers free public tours.
Black Taxi Mural Tour: Take a black taxi tour to see the political murals and learn about Belfast's turbulent past and ongoing peace-building efforts.
#Fun-Fact: Belfast
The ship Titanic was built in the Harland & Wolff shipyard in Belfast, and they are proud of it, too, having built an iconic museum – Titanic Belfast in its memory.
Accommodation, Transportation, and Dining
Accommodation: Whether you are looking for a grand, historic property, a stylish boutique hotel, or a budget-friendly hostel, Belfast offers accommodation options to suit every budget.
Transportation: Public transportation options include buses, taxis, and trains. Most of Belfast's city centre is walkable, and so is the picturesque Titanic Quarter.
Dining: The food scene in Belfast is thriving. From Michelin-starred restaurants to cosy cafés and family-friendly establishments, sample traditional Ulster fry, hearty Irish Stew, or Belfast Bap.
Travel Tips
Best Time to Visit: The best times to visit Belfast are between March and May for the spring weather and between September and November for the fall colours.
Highlights Outside Belfast: Take a day trip to the stunning Causeway Coast and Glens or see the mighty Mourne Mountains.
Cultural Insight: Local sports, especially rugby, football, and Gaelic games, are passionately followed in Belfast. Attend a game to truly immerse yourself in the local culture.
Belfast is a city of resounding history, striking urban developments, and a bustling food scene. Head to Northern Ireland's capital to discover all this and more!
4. Cambridge
Famed for its prestigious university, Cambridge is a quintessentially British city offering a wealth of history, culture, and beauty. With grandiose colleges, world-class museums, and serene riverside views, Cambridge is a delight to explore.
Top Tourist Attractions
The University of Cambridge: Admire the university's historic and architecturally diverse colleges. King's College and its chapel, Trinity College, and St. John's College are must-sees.
The River Cam: Enjoy a classic Cambridge experience by going punting down the River Cam, a tranquil way to see the architectural highlights of the city.
The Fitzwilliam Museum: Marvel at the impressive collection of art and antiquities spanning centuries and cultures, housed in a grand neoclassical building.
Cambridge University Botanic Garden: Explore 40 acres of beautifully landscaped gardens and glasshouses boasting over 8,000 plant species.
Round Church: Visit one of the oldest buildings in Cambridge, known for its unique round shape and fascinating history.
#Fun-Fact: Cambridge
Cambridge is home to the oldest university in the English-speaking world, and the university's library alone has over 8 million volumes.
Accommodation, Transportation, and Dining
Accommodation: From elegant bed and breakfasts and boutique hotels to low-cost student rooms in university colleges during the vacation period, Cambridge offers various accommodation options.
Transportation: Cambridge is a compact city best explored on foot or bicycle. Its efficient bus system services all corners of the city. The train station links Cambridge to London and other parts of the UK.
Dining: Boasting delightful teahouses, hearty gastropubs, fine dining restaurants, potted shrimp at Midsummer House or traditional cream tea at Harriet's Tea Room are recommended.
Travel Tips
Best Time to Visit: Spring (April-June) and autumn (September-October) showcase Cambridge at its best, both in terms of weather and crowd level.
Cultural Highlights: Famous for its choirs, Cambridge hosts many music festivals and concerts throughout the year. Don't miss a choral evening at King's College Chapel.
Local Customs: Politeness is an art form in this cultured city. A polite "Excuse me" will open doors and get attention in shops, and always be prepared to queue.
From its prestigious academia to the breathtaking views from the River Cam, Cambridge is an experience like no other. Explore the enchanting streets and tranquil green spaces, and discover a city entrenched in history.
5. York
York, a historic city in northeastern England, is known for its rich Viking and Roman history, exquisite Gothic architecture, and charming medieval streets. Though compact, York is packed with fascinating sights and cultural landmarks.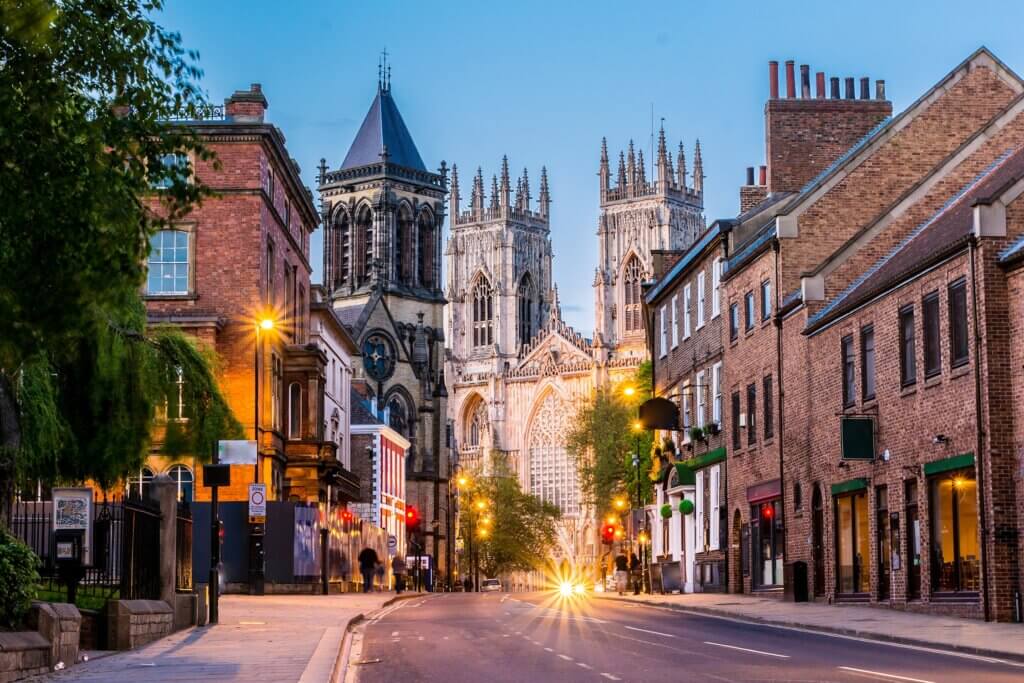 Top Tourist Attractions
York Minster: Visit one of the world's most magnificent cathedrals, known for its stunning handcrafted stone and medieval stained glass.
The Shambles: Wander along one of the UK's most historic and picturesque streets, famed for beautifully preserved Elizabethan buildings.
York City Walls: Walk around the most complete example of medieval city walls in England, offering fantastic views across the city.
National Railway Museum: Explore the world's largest railway museum, housing an impressive collection of over 100 locomotives and almost 200 other items of rolling stock.
#Fun-Fact: York
York is the home of the Kit Kat. The chocolate bar has been produced in York by Nestle since 1935.
Accommodation, Transportation, and Dining
Accommodation: Experience traditional English hospitality by staying in a historic inn, or choose from modern hotels and charming bed and breakfasts around the city.
Transportation: With much of the city centre pedestrianized, York is best explored on foot. Car parking is available on the city's outskirts, while the Park & Ride service provides easy access.
Dining: A city proud of its food scene, York offers everything from traditional pubs serving classic British dishes to stylish Michelin-starred restaurants. Be sure to try a traditional afternoon tea at Betty's.
Travel Tips
Best Time to Visit: June to August is the city's sunniest, while off-peak times from March to May and September to November offer fewer crowds and mild temperatures.
Cultural Events: Experience one of York's many festivals, such as the York Races, the York Chocolate Festival, or the Viking Festival.
Local Customs: British queuing etiquette is strong in York. Always wait your turn, whether you are queuing for a museum, a restaurant, or public transportation.
York, with its blend of ancient history and vibrant contemporary culture, ensures a memorable visit full of scenic beauty, historical lessons, and delightful culinary experiences.
6. Cardiff
As the capital city of Wales, Cardiff combines ancient history with modern vibes, playing host to impressive historic sites, a flourishing arts scene, and a cosmopolitan atmosphere, making it a vibrant, must-visit city in the UK.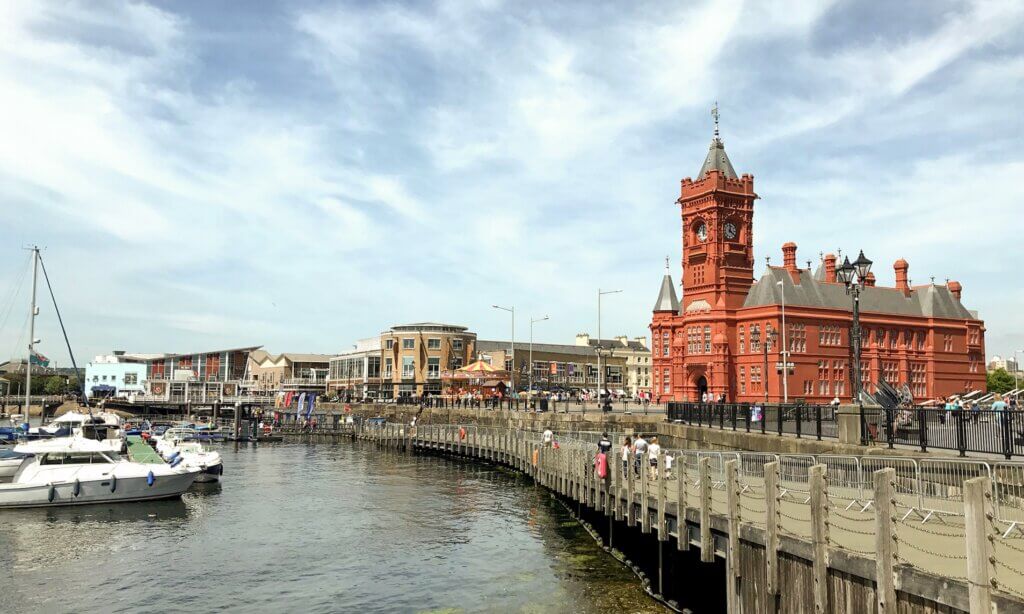 Top Tourist Attractions
Cardiff Castle: Embrace over 2,000 years of history in the city's heart. Explore the Norman Keep, Roman Walls, wartime shelters, and the splendid Victorian Gothic revival mansion.
Cardiff Bay: Immerse yourself in cultural attractions, including the Wales Millennium Centre, Norwegian Church, and Senedd Cymru – Welsh Parliament, or enjoy the waterfront views.
National Museum Cardiff: Discover world-class art, natural history exhibits, and a journey through space and time in the Evolution of Wales gallery.
St Fagans National Museum of History: Explore Wales's cultural history in an open-air museum, showcasing buildings from different periods of Welsh history.
Bute Park: Relax in this extensive parkland in the city centre, offering a greenhouse, gardens, and a café alongside views of Cardiff Castle.
#Fun-Fact: Cardiff
Cardiff is known as the 'City of Arcades', having the highest number of Victorian, Edwardian, and contemporary indoor shopping arcades in the UK.
Accommodation, Transportation, and Dining
Accommodation: From luxury hotels in the city centre to budget-friendly youth hostels and traditional Welsh guesthouses, Cardiff caters to various travel needs and budgets.
Transportation: Cardiff is a compact city, easily navigable on foot or by bicycle. Extensive bus and train services connect Cardiff to its suburbs and nearby places of interest.
Dining: Known as a foodie destination, Cardiff boasts a mix of traditional Welsh eateries, chic cafes, international restaurants, and vibrant street food markets.
Travel Tips
Best Time to Visit: Summer (June-August) tends to be the warmest period in Cardiff, but the spring (March-May) is equally pleasant with thinner crowds.
Sports Culture: With the city passionate about rugby, catch a game at the Principality Stadium to experience the local enthusiasm.
Market Shopping: Don't miss out on browsing the Victorian indoor Cardiff Central Market for local produce and crafts.
Cardiff, with its unique combination of historical and contemporary charms, is an intriguing city that provides an engaging and diverse cultural experience for any visitor.
7. Dundee
Situated on the east coast of Scotland, Dundee is known for its stunning shoreline, innovative design history, and solid cultural core. It's a compact city brimming with heritage and contemporary allure, promising a unique travel experience.
Top Tourist Attractions
HMS Unicorn: One of the world's oldest surviving ships, the HMS Unicorn is a must-visit waterfront museum engagingly showcasing maritime history.
Dundee Contemporary Arts: An iconic cultural hub featuring art exhibitions, a two-screen cinema, a print studio, a visual research centre, and a café bar.
Discovery Point: At this award-winning museum, you can discover the remarkable story of the RSS Discovery, the ship that took Captain Scott and Shackleton on their first successful journey to the Antarctic.
#Fun-Fact: Dundee
Dundee is known as the city of 'Jute, Jam, and Journalism'. It was famous for jute production, James Keiller's marmalade (the jam), and home to DC Thomson (the journalism), the publisher of famous comics like Beano and Dandy.
Local Culinary Recommendations
Get a taste of Dundee with its famous 'peh' (pie).
Indulge in a buttery Dundee cake.
Visit the local farmer's markets to explore Scotland's larder.
Restaurants and cafes range from traditional Scottish to trendy urban eateries.
Travel Tips
Best Time to Visit: Summer (June – August) provides the warmest weather, but Spring (April – June) and Autumn (September – November) are equally beautiful, with fewer tourists around.
Getting Around: Dundee is a compact city, making it easy to explore on foot. A reliable bus network and affordable taxi services are also available.
From creative arts to intriguing history, Dundee guarantees an authentic Scottish adventure with beautiful surprises. Don't forget to take time to soak in the breathtaking coastal views!
8. Brighton
Well-known for its charming and trendy seaside ambience, Brighton is a vibrant city positioned on the southern coast of England. Here, you'll discover a stunning blend of sea, sand, and eccentric city life that embodies the spirit of a quintessential British seaside resort.
Top Tourist Attractions
Brighton Palace Pier: More than just a pleasure pier, this iconic attraction offers a range of seaside food, classic fairground rides, and even an indoor soft play area. It's a staple for every visitor's itinerary.
Royal Pavilion: This remarkable and exotic palace is a testament to the creativity of the 19th century. Its beautiful gardens and extraordinary Indian and Chinese-inspired architecture are a sight to behold.
Brighton Beach: As one of the best-loved UK beach destinations, Brighton Beach offers a lively atmosphere with its pebbly shores, colourful beach huts, and the famous Brighton promenade.
#Fun-Fact: Brighton
Brighton has the oldest operating aquarium in the world, Brighton Sea Life Centre, which was built in 1872.
Food Options
Brighton is famed for its fish and chips with a view of the sea but is also known as a vegetarian and vegan paradise. The city's diverse culinary scene offers a choice from gourmet dining and quaint tea rooms to international cuisines.
Travel Tips
Best Time to Visit: Brighton is best enjoyed in the late spring and summer, between May and September.
Getting Around: The city is compact and easily walkable. However, buses and taxis are readily available, and for a unique experience, try the Volks Electric Railway, the oldest operating electric railway in the world.
Brighton offers a charming blend of seaside relaxation, historical landmarks, and a vibrant culinary scene. It's a city that's sure to artistically inspire while providing all the comforts of a relaxing beach getaway.
9. Manchester
Manchester, situated in the heart of England's Northwest, is a city that marries historical significance with a forward-looking vision. Known for its expansive industrial past, Manchester is a hub for arts, culture, and innovation today. Its rich heritage is mirrored in the architectural grandeur.
At the same time, its modernity is reflected in the proliferating arts scene and digital industries – a true blend of the past and the future.
Top Tourist Attractions
Manchester Cathedral: A medieval architectural masterpiece, Manchester Cathedral is a testament to Manchester's history and its resiliency. Its Gothic architectural style and serene ambience make it an absolute must-visit.

National Football Museum: A dream destination for football fans worldwide. Home to an immersive collection of football memorabilia, the museum allows visitors to delve into the world's favourite sport.

Manchester Art Gallery: A magnificent space housing a world-class art collection, from historic pieces to contemporary exhibits. Its ongoing commitment to showcasing the best of Manchester gives it its distinction.
#Fun-Fact: Manchester
Manchester is known as the birthplace of the Industrial Revolution and was the first city in the UK to build a public railway.
Local Food and Drinks
Manchester's thriving food scene offers various options, from traditional British fare to global cuisines. Don't miss out on the famous Manchester Tart or the Eccles Cake, paired with locally brewed craft beer.
Travel Tips
Optimal Visiting Time: Manchester is excellent to visit at any time of the year. However, for milder weather, visit between June and August. The Manchester International Festival in July draws significant crowds.
Getting Around: Equipped with an excellent public transport network of trams, buses, and trains, getting around Manchester is easy. The city centre, in particular, is best explored on foot.
Offering rich history, contemporary arts, sporting excitement, and renowned food and drink, Manchester provides an unrivalled travel experience that resonates with every type of visitor.
10. Leeds
Nestled in the heart of West Yorkshire, Leeds boasts a rich cultural heritage, perfecting a unique blend of historic charm and modern sophistication. As the city moves forward, it always remembers its roots, with cultural landmarks beautifully preserved amongst its contemporary architecture.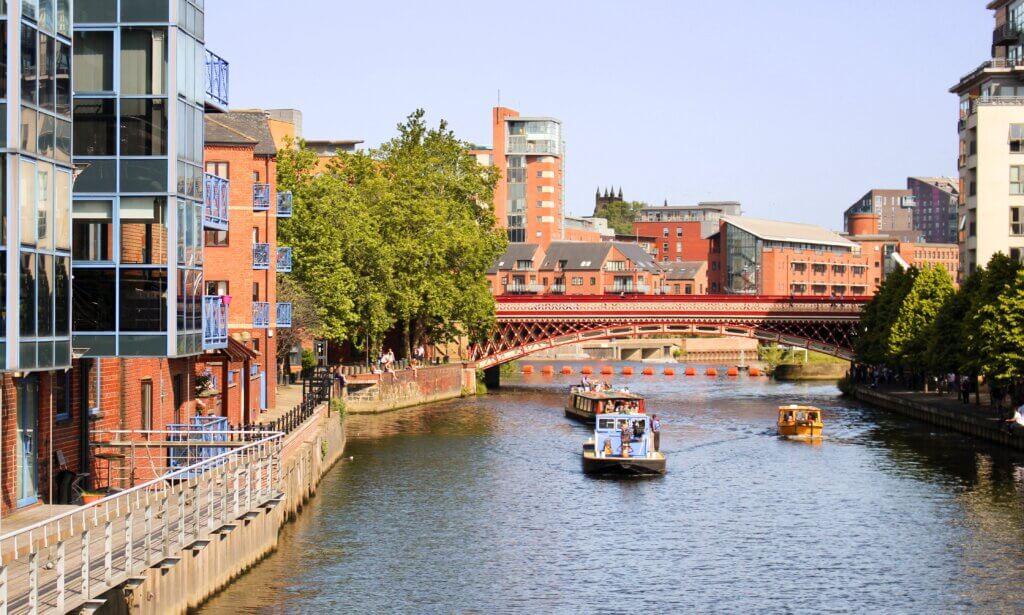 Top Tourist Attractions
Leeds Castle: Not to be mistaken with the one in Kent, Leeds Castle in West Yorkshire offers enchanting beauty that's lasted through the ages. Its stunning gardens, aviary, and classic maze provide a unique experience for history enthusiasts.
Leeds Kirkgate Market: One of the largest covered markets in Europe, it's a paradise for foodies and bargain hunters alike. The market has been the beating heart of Leeds since 1875, offering a range of goods and fresh produce.
Roundhay Park: One of the largest city parks in Europe, Roundhay Park boasts beautiful gardens, a tropical world, and even a castle. It is an oasis of greenery in the city, ideal for an afternoon stroll or picnic.
#Fun-Fact: Leeds
Leeds is home to the world's oldest continuously running film festival – The Leeds International Film Festival.
Accommodation, Transportation, and Dining
Accommodation: Leeds caters to all budgets. Luxury options like Dakota Leeds and The Queens Hotel offer top-notch amenities, while budget-friendly spots like Ibis Styles Leeds City Centre Arena provide value without compromising comfort.
Transportation: Leeds boasts a comprehensive transport network. The city centre is compact enough to explore on foot, but you can also use local buses and trains for further journeys. For hassle-free transit, consider procuring a MetroCard for unlimited travel.
Dining: When it comes to dining, Leeds is a gastronomic delight. Enjoy high-end dining at the Michelin-starred "The Man Behind The Curtain", indulge in global cuisine in the Trinity kitchen's street food market, or savor hearty pub food in one of the city's traditional inns like Whitelock's Ale House.
Travel Tips
Best Time to Visit: June to August is the best time to visit, thanks to the warm climate and various summer festivals.
Transportation: Leeds city centre is compact and walkable. However, buses and trains are readily available to visit the outskirts or nearby cities like York and Manchester.
Local Gastronomy: Besides its international cuisine, Leeds is known for Yorkshire Pudding and Parkin cake, both worth a try. The city's craft beer scene is burgeoning and a must-try for beer enthusiasts.
Rich in culture, history, and urban sophistication, Leeds provides a diverse experience that makes it a worthy addition to any travel itinerary. Its historical sites, vibrant market, vast parkland, and delicious gastronomy serve up an unforgettable journey.
11. Liverpool
Liverpool is a city steeped in maritime history and is globally renowned for its musical legacy. Located on the eastern side of the Mersey Estuary, the town was an essential trade and migration port from the 18th to the early 20th centuries.
Also celebrated as the birthplace of The Beatles, Liverpool's eclectic music scene has thrived through the ages, making it a cultural hotspot that fosters creativity and innovation.
Top Tourist Attractions
The Cavern Club: Known as the cradle of British pop music, this legendary club is where The Beatles cemented their musical career. A visit here is an absolute must for music lovers.
Pier Head: Part of Liverpool's renowned UNESCO World Heritage site, Pier Head is home to 'The Three Graces' – majestic buildings that have defined the city's skyline for over a century.
Merseyside Maritime Museum: Delve into Liverpool's rich seafaring past at this extensive museum. Exhibitions cover everything from the transatlantic slave trade to Titanic and Lusitania, making it a must-visit for history buffs.
#Fun-Fact: Liverpool
Liverpool is famous for its music scene and is recognized by Guinness World Records as the World Capital City of Pop, thanks to the Beatles.
Accommodation, Transportation, and Dining
Accommodation: From luxury to budget, Liverpool caters to all accommodation needs. Consider staying near the city centre to easily access the main tourist sites. Premier options include 30 James Street, Mercure Liverpool Atlantic Tower Hotel, and Liverpool Marriott Hotel City Centre. Budget-friendly options like the Lord Nelson Hotel offer convenience without breaking the bank.
Transportation: Liverpool is a compact city, with most attractions within walking distance. Public transport, however, is easily accessible with Merseytravel – they offer buses, trains, and ferries. Additionally, hop-on-hop-off tours provide excellent sightseeing options.
Dining: Liverpool is an epicurean surprise. Home to a melting pot of culinary cultures, there's something to suit every palate in the city. Treat yourself to Michelin-star dining at Art School Restaurant, enjoy classic fish and chips at Docksider's, wander to Bold Street for many international flavours, or relish award-winning Indian cuisine at Mowgli Street Food.
Travel Tips
Weather: The weather in Liverpool can be quite changeable. Be prepared by dressing in layers, and always keep an umbrella handy.
Safety: Liverpool is a safe city, but as with any travel destination, keep an eye on your belongings, especially in crowded tourist spots.
Planning: If you're heading to attractions like the Museum of Liverpool, Royal Albert Dock, or the Beatles Story, try to arrive early to beat the queues.
Tours: Guided tours, whether for the city or specific attractions like the Anfield Stadium, can provide richer and more contextual experiences.
Conclusion
Each city in the United Kingdom holds its unique charm, offering a different facet of the country's rich cultural tapestry. From the eclectic seaside vibes of Brighton, Manchester's mix of historical and modern marvels, the blend of historic charm and stylish sophistication in Leeds, to the maritime legacy and the iconic musical roots of Liverpool, there's much to delve into, whether you're a history buff, a fan of contemporary culture or a lover of natural beauty.
The United Kingdom is truly a traveller's delight, offering a diversity and depth of experiences like few other places. Each city narrates a unique tale of the past, provides a distinctive taste of the present, and holds the promise of an exciting future.
As we conclude, we encourage you to venture and delve into the richness that these cities offer. Even if you've visited the UK before, these cities always have something new to discover, making every visit an opportunity to create new and unique memories.
Please do visit other interesting posts too:
FAQs
What are the must-visit cities in the UK for first-time travellers?
For first-time travellers, iconic cities like London, Edinburgh, and Bath offer a fantastic introduction to the diverse culture and history of the UK. These cities boast famous landmarks, rich history, and vibrant atmospheres.
Which UK cities are best known for their historical significance?
Cities like York, Oxford, and Chester are renowned for their historical significance. York showcases its Viking heritage, and Oxford brims with its prestigious university history. At the same time, Chester displays well-preserved Roman walls and medieval structures.
Are there off-the-beaten-path cities worth visiting in the UK?
Yes, indeed! Consider exploring cities like St. Ives, Stirling, or Inverness. St. Ives in Cornwall is an artist's haven. Stirling boasts a rich medieval history, and Inverness is a gateway to the Scottish Highlands.
What are some family-friendly cities in the UK?
Cities like Stratford-upon-Avon, known for Shakespeare's heritage, or Cardiff, with numerous family attractions, including Cardiff Castle and the National Museum, are ideal for family vacations.
Which cities in the UK are famous for their culinary experiences?
Food enthusiasts should head to cities like Bristol, known for its diverse food scene and street art, or Glasgow, which offers a fantastic array of culinary delights and vibrant markets.
Are these cities accessible for solo travellers or those on a budget?
Yes, most of these cities offer various accommodation options, public transportation, and plenty of free or low-cost attractions, making them suitable for solo travellers or those on a budget.