Best Reasons To Visit Lucknow – The City Of Nawabs !!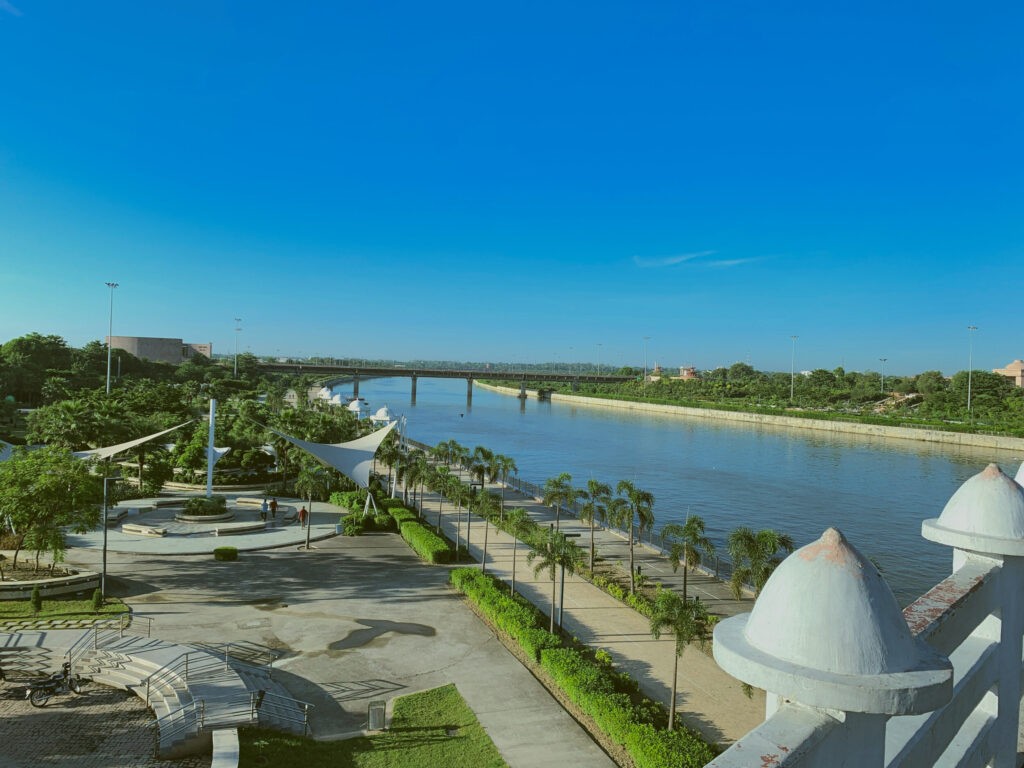 Agar aap tehzeeb aur nazaakat se

ittefaaq rakhte hain,

Beshaq muskuraiye ki aap

lucknow mein hain
Lucknow is a place where etiquette is of prime importance combined with the sweetness of spoken language – Urdu !!
It provides multiple spots for a traveller to indulge in. This blog aims to give readers new insights into beautiful locations you can visit in Lucknow and weave beautiful memories.
How to reach Lucknow?
This city is well connected – by air, railways, and road.
Lucknow has a Metro Rail network, which makes intra- city travel more affordable and without traffic. This Metro line starts from Lucknow Airport and ends at Munshipulia. FYI.
Aasteen mein ab bhi wo, adab-o- jazbaat
liye firta hun,
rahun kahin bhi, thoda sa lucknow
saath liye firta hun
How to travel within Lucknow?
There are many options you can avail to travel within the city – three-wheelers (the common term is auto), shared tempo. There are also state-run buses, or sometimes you can find rickshaws pulled by men. These days, we have e-rickshaws for shorter distances.
Places to visit
Bara Imambara
The Bara Imambara and Chota Imambara are such historical monuments that are Lucknowites( people of Lucknow) are proud of. "Bara" means big, and "Imambara" means a shrine for the Shia Muslims. It was built by Nawab of Awadh – Asaf-Ud-Daulah in 1780s. The vast complex includes Asafi Mosque, a step-well or a Bawli and the famous labyrinth – Bhool Bhulaiya.
Few things you have to keep in mind:
Chota Imambara
Chota Imambara, also called Hussainabad Imambara, standing to the west of Bara Imambara, was built by Muhammad Ali Shah (1837-42), the Nawab of Awadh 1838. It was constructed as an Imambara.
It is a highly embellished, ornate structure with a gilded dome, several turrets, and eye-catching chandeliers imported from Belgium.
FYI – There is an entrance fee for admission on the premises.
Rumi Darwaza
This beautiful Darwaza was built under the rule of Nawab of Awadh – Asaf- Ud-Daulah. It is also one of the most visited historical monuments in Lucknow. It is better known as the Turkish gate of Lucknow. This gate was designed similar to the Gateway of Istanbul, referred to as the East home. Thus, the name Rumi means Rome.
One exciting thing about this splendid gate is how it looks from the two opposite sides. From one side, 3 beautifully designed arches are visible, but from the other side, there is only one big arch.
Adhoora qissa likh kar,
panne mod aya hun
khud ka ek tukda,
lucknow chodh aya hun
Hazratganj
No visit to Lucknow is complete without doing "Ganjing". It is a famous term for strolling around leisurely in the HazratGanj area. There are many branded outlets of clothing, shoes, fashion, famous Sahoo theatre now converted to PVR cinemas, and sweet shops. Basically, a place where you can spend your time without any worry.
For the benefit of people, there is now centralised parking which can hold a considerable number of two-wheelers and four-wheelers.
Ambedkar Memorial Park
It is one of the most photographed parks in Lucknow. It is built beside the Gomati river in Gomati Nagar under the government of Ms Mayawati, former CM of Uttar Pradesh. This memorial is dedicated to Dr Bheem Rao Ambedkar, the father of the Indian Constitution. It has a sprawling campus of 108 Acres which looks stunning at any time of the day.
Many Bollywood songs have been shot here. It is a popular place among youngsters.
There are other equally beautiful and popular parks, and they are located in the vicinity of each other – Janeshwar Mishra Park and Ram Manohar Lohiya Park.
Aminabad
It is one of the oldest markets in Asia. It is trendy among the local people for "Chikan" work – the unique craft prevalent in the whole world and Zardozi work. It is the market for people who can bargain. This market is crowded all day long. It is famous for clothing materials. It is also equally well known for food items Tunday Kabab and Prakash Kulfi.
Kashish-e-lucknow, are tauba
fir wahin hum, fir wahi aminabad
Apart from these attractions, you can visit – Indira Gandhi Planetarium, Lucknow Zoo, Lucknow Botanical Garden, Kathak dance shows, Fun Republic Mall, Sahara Ganj Mall, and Ekana Cricket Stadium.
The newest attraction in the town is Phoenix Palassio Mall, located beside Shaheed path. It is built on vast premises, and it comprises all world's leading brands, from Clothing to Retail.
Which is the best season to visit?
Usually, there is no best season to visit this beautiful city. If anyone asked, the specific season would be from late September till February to enjoy this city to the fullest. But, as this is a North Indian city, try to avoid the harsh and dry summer season.
Where to stay?
The accommodation is not hard to find in this city. From luxurious to affordable, there is no shortage of options. Hotel Taj, JW Marriot, and Piccadily are a few top hotels in Lucknow. Cheap rooms/hotels can be found across the city.
In the end, we would say that Lucknow is a place which is rich in cultural heritage, etiquette, food richness, and educational hub. It won't leave anyone empty-handed if anyone visits this place.
Wo aabo-hawa,
wo sukoon kahin aur nhi milta,
milte hain sheher bahut, par,
lucknow sa nahi milta
In the end
If you're looking for a magnificent and historic city to visit in India, be sure to add Lucknow to your list. With its grand architecture, fascinating museums, and delicious cuisine, there's something for everyone in this city. And with so many great places to see, you'll never run out of things to do while you're here. So start planning your trip to Lucknow today – you won't regret it!

If you like the post, you can pin it !!